Classic series - 100% pure apple
AVAILABILITY: All year.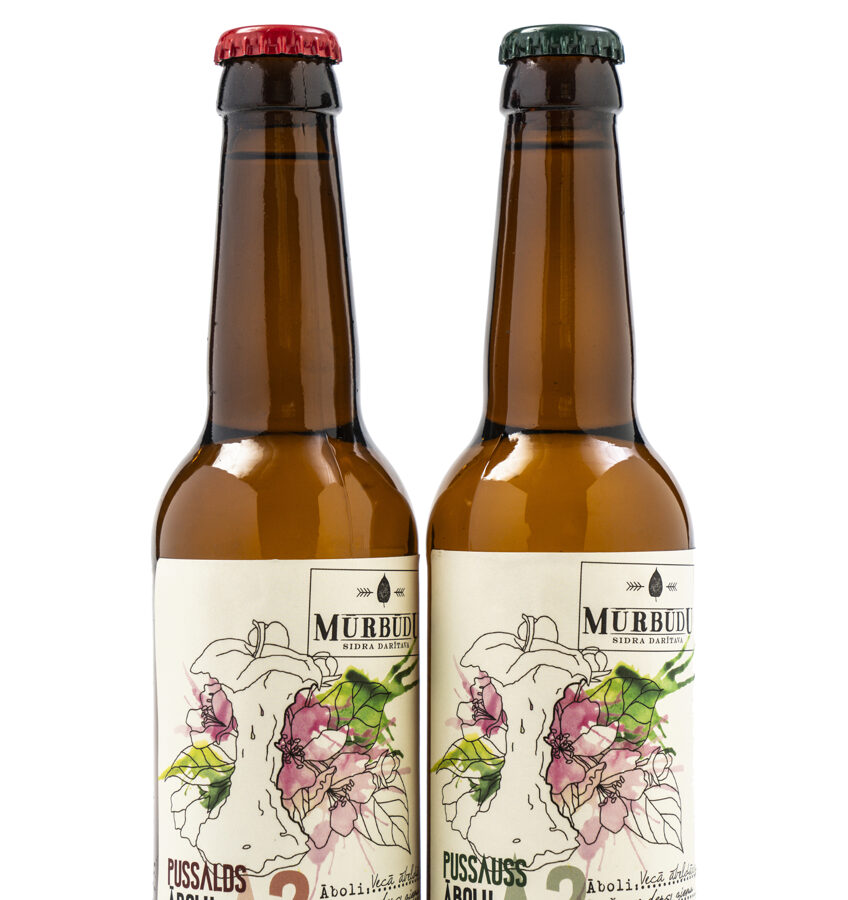 Clean, fresh, crisp, aromatic, easy drinking apple cider. Full bodied and round with great drinkability. The mix of apples only from heritage orchards, together with our cider making methods, gives these ciders a classic Mūrbūdu taste. These are our quintessence, the embodiment of our style, which give rise to many other ciders and experiments. They can be regarded as being New World in style, with characteristic nuances of Northern Vidzeme and Latvian apples. More specifically, these nuances mark these ciders as representatives of the "Baltic cider" style, as distinct from other world cider styles. Refreshing acidity with an emphasis on the aromas of green apples, light floral notes and citrus. Very easy to drink ciders. Semi-sweet and semi-dry, available in 0.33L bottles or 30L barrels, 5.0% ABV.
ANARCHIST SERIES
AVAILABILITY: All year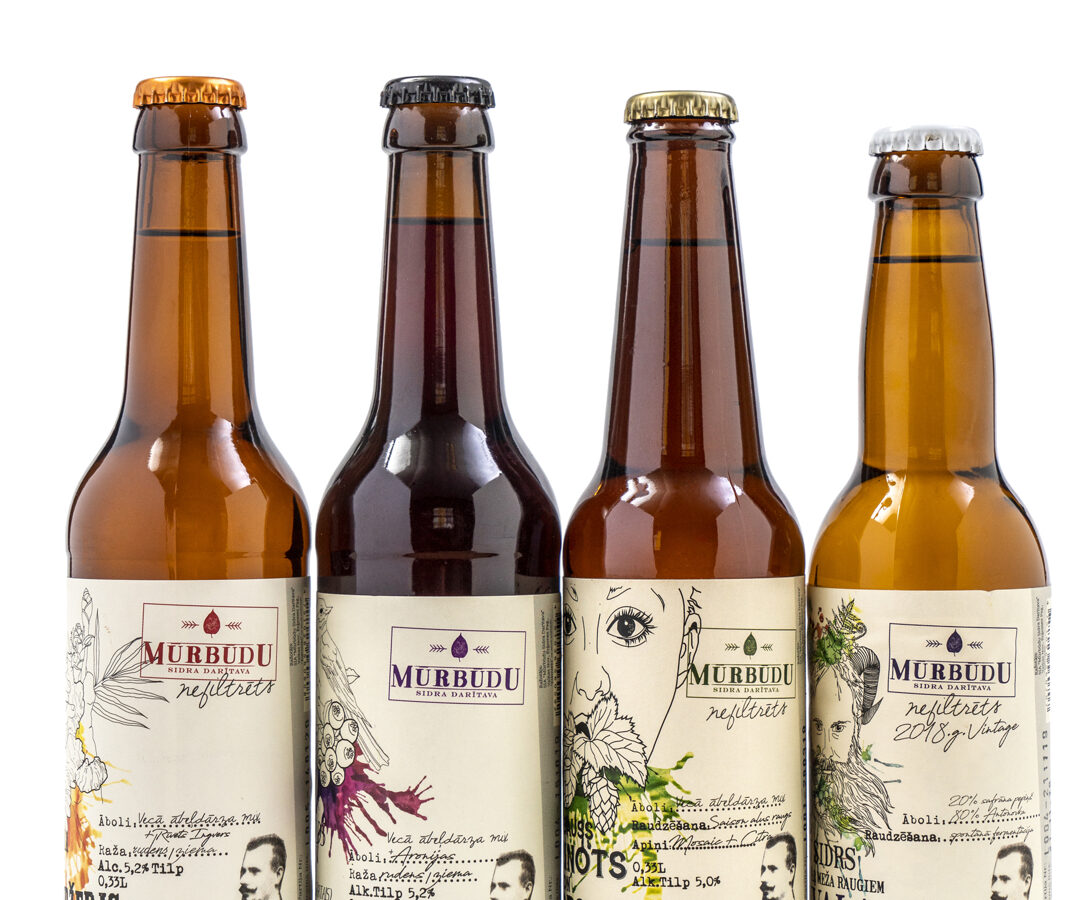 The anarchist series emerged from our first experiments – enhancing our cider with different flavours and ingredients in order to bring it to a new level with exciting new taste profiles. Each of the ciders of the anarchist series has its own story and reasons why we created and love each one.
GINGER – drawing on classic ginger beer - which is popular in England, Australia and the USA - and the fact that the main cidermaker and owner has a great fondness for fermented ginger drinks, we realised that cider is the perfect platform for ginger flavour: apple acidity and fruitiness in combination with spicy ginger, balanced with semi-sweetness. This cider is aged for 1-3 months on freshly grated ginger root and is bottled unfiltered.
CHOKEBERRIES (Aronia) - this is something we are passionate about. Classical apple varieties in Latvia and the Baltic region lack tannins. Tannins provide astringency, they are antioxidants, and help to form aromas. The lack of tannins is both an effect and a defect, depending on each person's taste and what flavours/sensations they wish to experience in their cider. In any case, we wanted to get those tannins and flavonoids into our cider; the chokeberries provide tannins (polyphenols) which makes cider richer, more intense, fuller bodied, and add a fantastic violet-purple colour, together with the light aromas and flavours of dark berries. Chokeberries are often used in our ciders, so don't be surprised when the next vintage chokeberry or "barrel aged" Aronia appears! Semi-sweet, full-bodied and fruity cider.
APIŅOTAIS (Hopped) - Given that the main cidermaker and owner of Mūrbūdu cider loves hops and hoppy beers, it is no wonder that one of the first experiments was dry-hopping our cider. In other words, hops are not boiled, but are added in dried form to the cider. This process directly extracts aromas from the hops, avoiding sharpness and bitterness. The hopped cider's base is fermented using Belgian saison brewer's yeast, which ferments at warmer temperatures than other yeasts and imparts pleasant fruity aromas. Hops are selected from New World hops - Citra and Mozaic - that have high levels of alpha and beta acids. These hops enrich the cider with fantastic notes of citrus and tropical fruits. Super-aromatic, fruity, semi-dry cider.
WILD – A variety of fermentation methods can be used to make cider. A major distinction is whether commercial yeasts are used or whether the juice is allowed to ferment with "wild" yeasts naturally present in the juice (from the skins) and air. We use different varieties of yeast for most of our ciders, but for a portion we allow "wild" fermentation. We blend the best of these naturally fermented ciders together every year to create our Wild cider. It differs a little from year to year. Each year is unique and once it's gone, it's gone! Dry and sophisticated cider with various nuances of wild fermentation aromas.
SESONAL SERIES
AVAILABILITY: Saulgriežu (Tautumeitai/Tautudēlam) - From early/mid June, Raspberry - From early July, Winter - From December.
Other once-off seasonals are available when available - for more info, get in touch with us!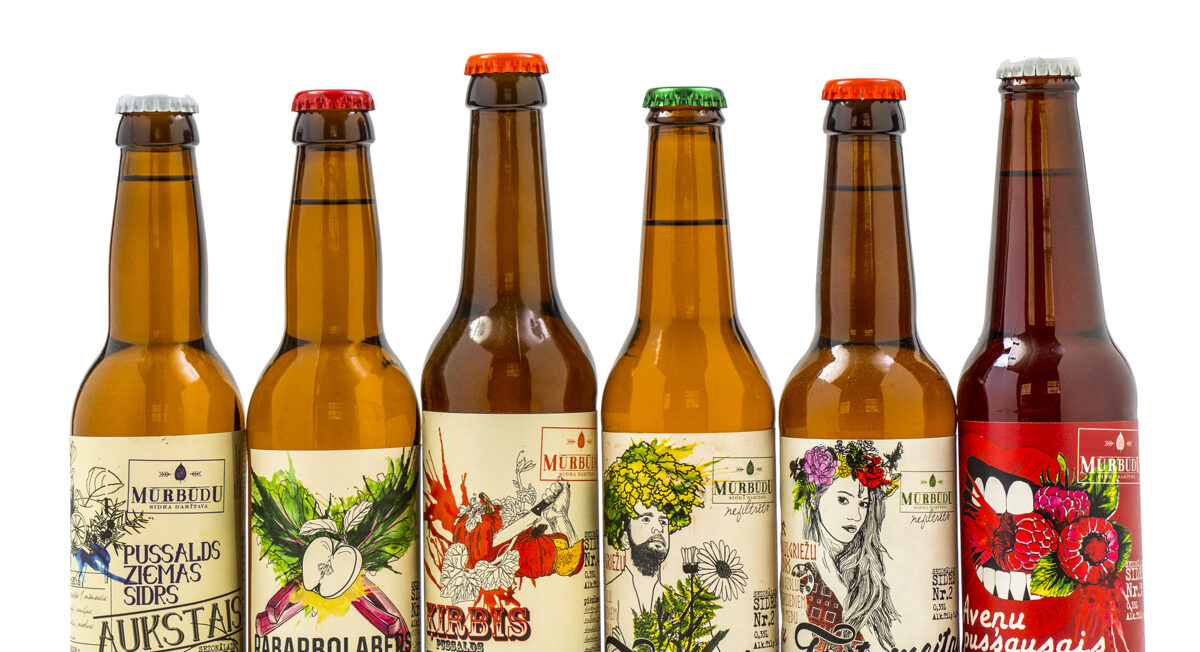 Every season we make a new seasonal series of ciders. We are excited about the opportunity to pick up a seasonal product or flavour and transform it into cider. This series allows us to continue our experiments with different flavours, colours, aromas and create new, captivating ciders.
Every year we repeat these ciders:
"TAUTUMEITAI" (Folk-girl's) and "TAUTUDĒLAM" (Folk-lad's) are summer solstice ciders which we intended to be both feminine and masculine. They reflect our ideas about what cider might have been like if it had been a traditional and widely consumed drink in Latvia since ancient times, similar to beer. Probably something to enhance the aroma would have been added, stored in oak barrels, and honey most likely used for sweetness. Well, that's how solstice cider came into being – linden blossom (female), oak (male) and honey sweetness.
In summer, we make SEMI-DRY RASPBERRY (Pussausā Avene) cider: good acidity, super-aromatic, and beautiful red colour. This cider is a raspberry bomb with a powerful nose of fresh raspberries. Raspberry tartness and fruitiness, crisp and crunchy - refreshing summer cider.
In winter we always make WINTER CIDER (Ziemas) - both cold and hot. The cold is sparkling, the hot is still - intended to be heated, similar to mulled wine. Aged with various wintry spices, enriched with whole vanilla pods, and aged on roasted oak barrel shavings.
In addition to these we have many other experiments. One that should definitely be mentioned is autumn pumpkin cider - with roasted pumpkin and spices, like a delicious, sweet pumpkin pie. Another is Rabarbolabers, which originated when some rhubarb was left over from making sparkling rhubarb wine. Combined with apples a fantastic spring rhubarb cider was created, with a charming fresh rhubarb nose, just like a newly plucked rhubarb stalk. Childhood memories of rhubarb with sugar!
DISCOVERY SERIES
AVAILABILITY: ZAĻAIS - Usually from october (+/- 1 month), Wild pear - Every other year, usually around mid-year
Other once-off Discovery Series ciders are available when available - for more info, get in touch with us!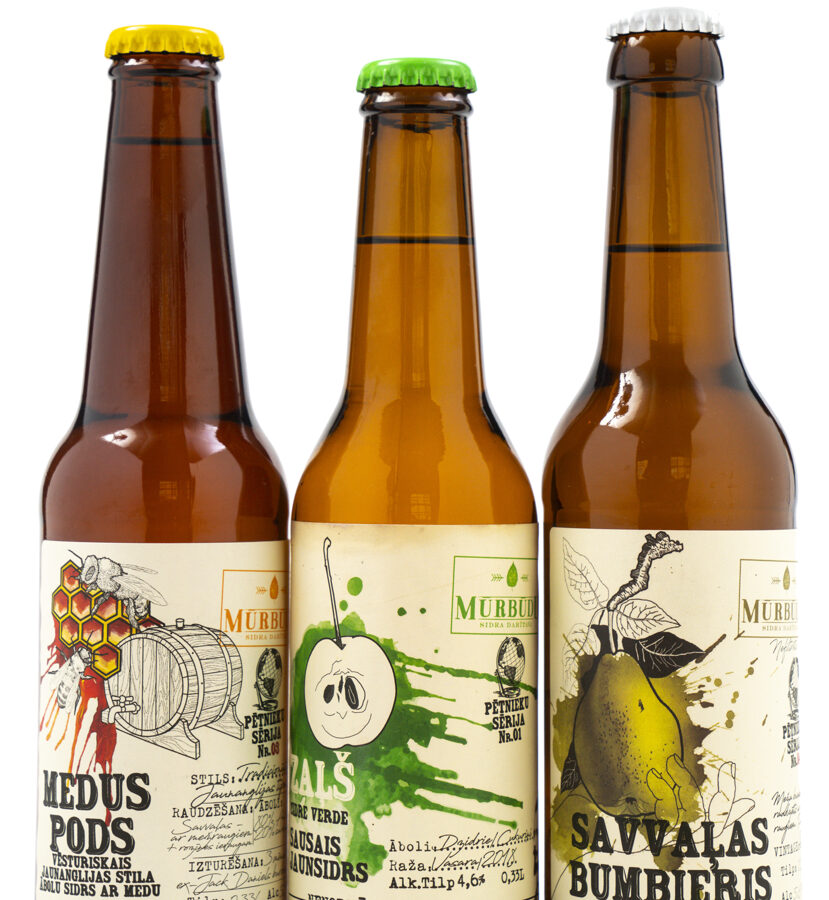 Here, unlike the Anarchist and Seasonal series, we experiment purely with cider-making techniques, not with the addition of flavours. Of these ciders, one that we return to annually during harvest is "Zaļš" (Green), which is a fresh, young incompletely fermented cider. It is naturally semi-dry or semi-sweet and filled practically straight from the fermentation vat. By stopping the fermentation process, it retains its natural apple sweetness and fresh apple aroma. The inspiration came while tasting fermenting ciders during harvest to test their quality. We struck such a juicy, clean and flavoursome cider that we wanted to give others the chance to taste what it was like at that moment. As we pondered this idea, we remembered the French traditions in the Beaujolais region, where a fresh new harvest-time wine (Beaujolais Nouveau) is released on the third Thursday of November each year. We could do something similar. This is the juiciest and most appley cider in our assortment. It is enjoyable fresh, as soon as it becomes available, or can just as well be cellared and drunk after 6 months or a year or more after bottling. With each week and month this cider will change its character. It is fascinating to experience these changes over time. The maturation process usually takes place in vats, but here you have the opportunity to follow this process yourself by once a week or once a month opening a bottle and sampling this unique cider. "Zaļš" is available annually during harvest, usually starting in September.
This series also includes "Savvaļas bumbieris" (Wild pear), which was our first experiment in fermenting pears and using "maceration", which means - after shredding the pear - holding the pear mass for a day before pressing, thereby allowing the sharp tannins to decrease and give extra aromaticity. It is planned to repeat this cider every two years because we make it only from fruit grown on our property on trees that produce a significant crop only every two years. Dry, tart, flavour rich, aromatic pear cider.
Medus pods (Honey pot) was our first experiment with keeping cider in oak barrels. This was done specifically with the aim of imitating the old New England cider style that existed a couple of hundred years ago in the US. In those days there was often no ready access to fresh drinking water and, therefore, on longer hikes (most often by the army) apple juice was taken along. The juice standing in barrels quickly fermented and then turned into vinegar. To avoid this, sugar was added (then it would have been either brown cane sugar or honey) to make it stronger. The increased alcohol in the cider allowed it to last longer. In turn, to be more enjoyable, before drinking it was usually sweetened with brown sugar or honey. As a result, the New England cider style was born - strong, aged in wood barrels, sweetened with brown sugar or honey. We imitated this style by holding the cider in American oak (bourbon) barrels, sweetening it with honey from the local Burtnieki municipality. We really enjoyed this experiment with barrel conditioned or "Barrel aged" cider, and it inspired us to continue this style in the next series.
EXPERIMENTAL SERIES
AVAILABILITY: Every so often, when available. Get in touch to find out what's available now.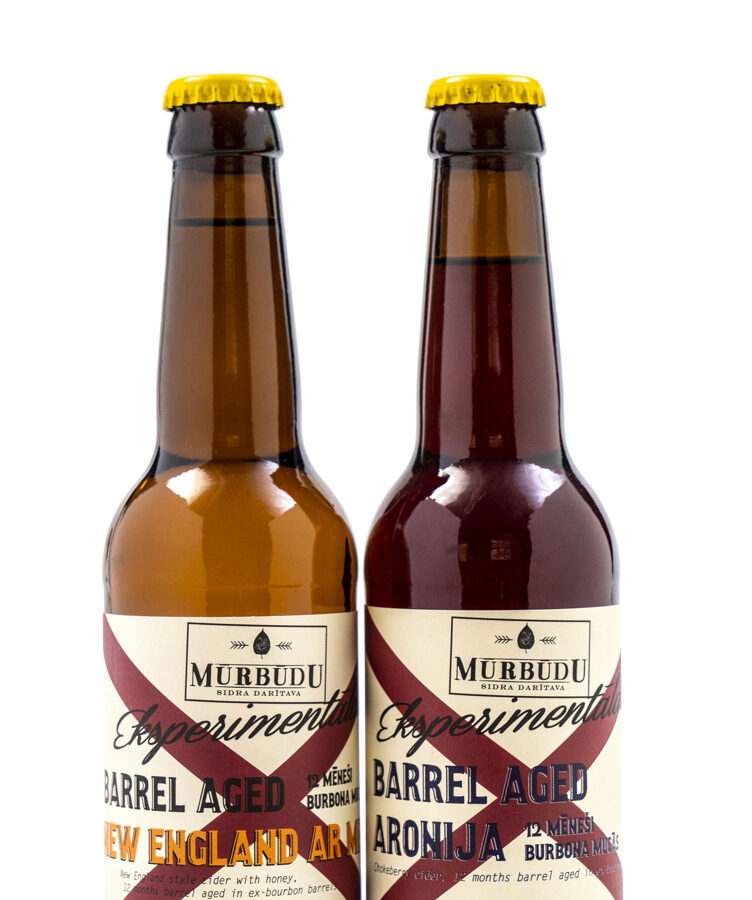 In this series we experiment with holding different ciders in different barrels. The first two ciders of the experimental series are both aged in American Oak, freshly emptied barrels of bourbon or Tennessee straight whiskey (Jack Daniels and Buffalo Trace). One is a New England style, similar to "Medus pods" (Honey Pot), sweetened with honey, and the other is a dry chokeberry (Aronia) cider. A number of other ciders will become available in the Experimental series. Various ciders have been barrel aged, including MLF (malolactic fermentation), crab apple, pear, ginger, chokeberry, and wild fermentation. The number and variety of barrels has also increased. From French oak we have Calvados barrels from the Normandy region of France, brandy barrels, and Cognac barrels, as well as Scotch whisky barrels (Talisker) that were originally used for aging sherry. We also have various American oak barrels from distilleries such as Jim Beam, Jack Daniels, Buffalo Trace and others. These ciders will be bottle fermented, mostly dry, and very individual in their characters.
EVERYTHING ELSE
AVAILABILITY: BLACK and NAKED TRUTH available all year, VINTAGE and RHUBARB available usually all year, but can be sold out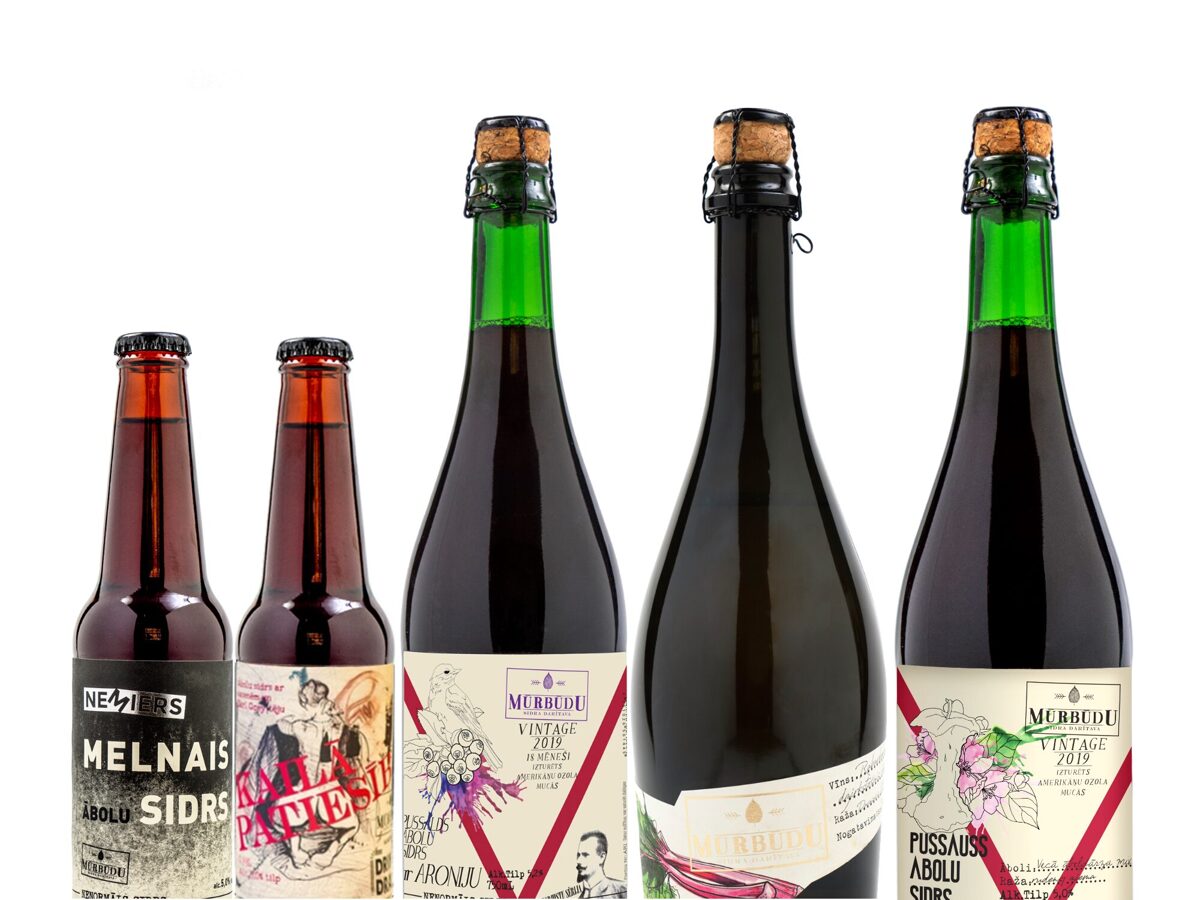 Special collaborative ciders - NEMIERA MELNAIS (Restless black) and KAILĀ PATIESĪBA (Naked truth) - were created in collaboration with our cider-loving friends. For the Nemiers bar we created a special Black Cider, aged in bourbon barrels and on bourbon barrel shavings, sweetened with brown and burnt sugar and enriched with dark cherries. The Naked Truth was created in cooperation with Drink 'n' Draw Latvia, an arts-promoting organization that gathers all who like to sketch/paint/draw – it organizes various sketching events with live models in Latvia. This cider was held on whole forest blackberries and enriched with Earl Grey tea and bergamot peel, which gives an extraordinary blossom nose with neat citrus notes, accompanied by the berry characters of the blackberries.
In addition to these collaborative ciders, we release VINTAGE cider annually. Currently available is the 2019 Aronia & 2019 Semi-dry ciders aged in American oak barrels - for this cider, we lack words. This is what we have been waiting for for a long time!
We also make sparkling Rhubarb wine every year.